The European Investment Law and Arbitration Review is the first journal that is specifcally focusing on European investment law and arbitration.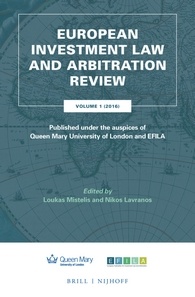 The Review is co-published by EFILA and Queen Mary University of London.
The Editor-in-Chiefs are Prof. Loukas Mistelis (QMU) and Prof. Nikos Lavranos (SG of EFILA).
The third issue of the Review will be published in December 2018 by Brill – Martinus Nijhoff Publishers.
The Review can be ordered directly at the http://booksandjournals.brillonline.com/content/journals/24689017
The 2019 Call for Papers 2019 and the Essay Competition 2019 are open now.